In 1993 two conservationists, Iala and Akal Jaggs bought 24 acres of cattle pasture in the southwest corner of the Nicoya Peninsula. They spent 8 years living off the grid and reforesting. Today those 24 acres are once again lush, tropical jungle.
They have been split into three parcels and are waiting for their new guardians. People of vision who have a dream of living in Paradise and also want to give back to our Mother Earth by perserving this tropical Paradise.
All three properties are located in Costa Rica's famed BLUE ZONE. There are only a few Blue Zones on the planet, these are areas where people enjoy long and healthy lives, often to 100 years or more. Oprah even did a special on it and Dr Oz came to visit. This Blue zone's longevity is attributed to the fresh fruits straight from the Trees, a healthy lifestyle of early to bed and early to rise, caring for the land and the mineral rich water.
EL SANTUARIO DE LA LUZ
is 4 hectares (9.6 acres). It is home to the giant Ceibo Tree. This is the largest Ceibo on the Nicoya Peninsula. The Ceibo is sacred to the Mayans as the Tree of Life. The Mayans believe that people were birthed from the tree. Mayan shamans would take a sick person to a Ceibo tree and lean them up to the tree and make a machete mark in the trunk in the spot corresponding to the illness. High up on the trunk of this Ceibo are many shaman markings. This Ceibo is over 150 feet tall has very impressive buttress roots and takes 18 people with their arms outstretched to encircle it. The new guardian of El Santuario has a sacred trust of being the Caretaker of this Majestic TREE that has survived for hundred of years. When Iala and Akal first arrived the Ceibo could be viewed from the road. Now thanks to their reforesting efforts - the Ceibo has become a hidden treasure.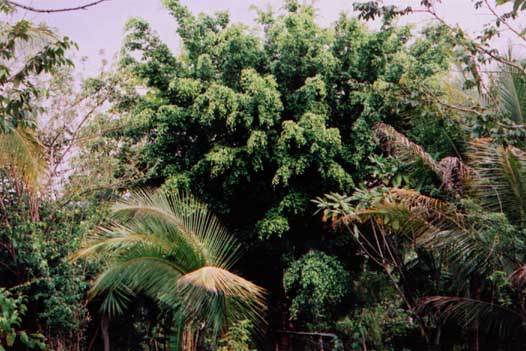 El Santuario de La Luz is a fruit salad in the making. There are dozens of varieties of bananas and cuadrados, star fruit, cashew nut, oranges, limes, mangos, guava. There are avocados and ylang ylang, fig trees, Neem, flor blanca(frangipani/plumeria),
almendra del mar, coconut palms, hibiscus & more. The trees around the house have been planted at convenient hammock length distances. Hammock Therapy - someone's gotta do it!
There are streams running through the property that are spring fed. A well has been dug and there is abundant water year round. That's mineral rich, calcium strong, delicious, Blue Zone Water - clean, cool, refreshing and rejuvenating!
The Casa Grande structure is a two story octogan with concrete first level, a zinc roof and hard wood (pichote) second floor.
There is electricity at the road and cell towers on the peninsula provide cell phone coverage.
The Santuario has become an animal corridor. Across the road is a large Nature Perserve named Valle de Betel owned by a member of the Spanish Royal family. The Santuario has lost some of it's ocen view because of the Preserve but the fact that the jungle is being perserved and reforested and that we can provide a home to indigenous animals is more than worth it. There are howler monkeys,parrots by the thousands, armadillos, jaguars,coatamundis,morpho blue butterflys and the stream is full of shrimp.
Everyone has the dream of getting away from it all and living in paradise. El Santuario is the perfect answer to that dream. All the hard work of creating Paradise has been done. Water and electricity at your fingertips. Being the new guardian of El Santuario comes with the added bonus of making a difference on this planet by being the perserver of the rainforest!
EL Santuario is located in Betel (Bethlehem). This is in the southwest corner of the Nicoya Peninsula in Puntarenas Province.
This is as far south as the Mayans ever lived. It is apporx. 11 km (6 miles) from Cobano
a local supply hub with a bank, hardware stores and grocery stores, doctors, dentists and now even a dog boarding and pet store. It is 2 miles to Playa Manzanillo.
Playa Manzanillo is a beautiful, peaceful fishing village. Very undeveloped. A few local sodas(cantinas) & cabinas a little grocery store a school and the soccer field and the public phone.
To the south of this beach is the more popular Sta Teresa and Mal Pais. your very close neighbours there are Tom Brady and Gisele Bunchen. Montezuma a very popular tourist destination - with dancing, bars, internet cafes and a nightly movie is about 9 miles away. El Santuario is perfectly situated for seclusion, peace and quiet with plenty to do close at hand.
Watch this walking tour video of The land, the Casa and the Sacred Ceibo:
EL SANTUARIO de La LUZ is $350,000.
The bordering property is:
SPIRIT SONG SANCTUARY
Spirit Song is 2 hectares (4.8 acres). It's homesite is the most spectacular hill with views of the Ceibo, the mountains and the ocean.
There are natural spring again the fabulous Blue Zone water, abundant wildlife, electricity at the road. It has been reforested and is seeking it's very special caretaker. That special someone who has a Spirit Song to sing of their own! It has all the pluses of El Santuario at a very affordable price of $150,000.
MORE PARADISE FOR SALE:
THE SANCTUARY OF THE HEART
The Sanctuary of the Heart is 4 hectares (9.6 acres). It is completely fenced in. It has had two house sites cleared that have been lovingly planted with palms,hibiscus,bananas and flowers.
All in preparation for those special guardians who are looking for their peace of Paradise. That special place where their hearts can open and expand.
The Sanctuary of the Heart has also been reforested. It has streams running through it from springs originating on the property- Blue Zone water - full of bone strengthening calcium and rich in minerals. It has a view of the Ceibo Tree and the mountains and ocean view if you build a home with a second story.
It is located right next to Spirit Song Sanctuary.
Here is a walking tour video of the Sanctuary, views and cleared homes sites.
Sanctuary of the Heart is $250,000.
NOW HERE IS A VERY SPECIAL OFFER.
These three pieces together would make a fabulous Retreat Center or Jungle Cabinas or
very private nature Reserve.
If you would like to purchase all three and create a fabulous Life and Dream of your own
The price for all 3
El Santuario de la Luz
Spirit Song Sanctuary
&
Sanctuary of the Heart
is
$ 6 0 0$600,000. U.S.. $600
Contact: (928)282-0993